Full Name: Dr. Gulnaz Arshad   ڈاکٹر گل ناز ارشد
Dr. Gulnaz Arshad, an inspiring Hindkowan female linguist, belongs to the Hindkowan community
of the ancient city of Peshawar.
With a profound love for the Urdu language, she has emerged as a
prominent figure in the field of linguistic research.
Driven by a persistent hunt of knowledge, Gulnaz has graced the academic community
with her immense contributions.
Dr. Gulnaz Arshad's intellectual journey has been marked by a remarkable feat of 24 Published Research Articles.
She has also penned a research book which stands as a beacon of her scholarly competence.
Besides Urdu, as Gulnaz Arshad is a true Hindkowan so her love for mother tongue is also not hidden.
Dr. Gulnaz Arshad is a wonderful lady and a true example for the Hindkowan ladies who wish to have a career based success.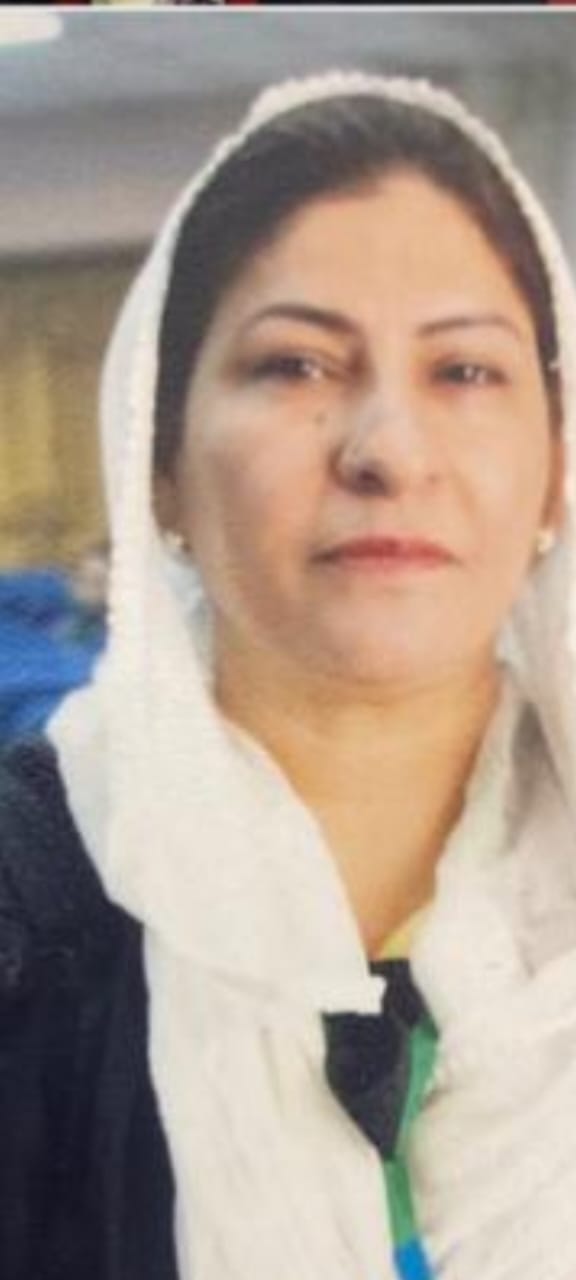 Father Name:      Taj-Ul-Malook Khan
Mother Name:    Saltant Begum
Shoukat Ali Khan
Sohail Ali Khan
Professor Imran
Durr e Mehtab
Ph. D. (Urdu) University of Peshawar
M. Phil. (Urdu) University of Peshawar
M. A. (Urdu) 1st Division University of Peshawar
B. A. Frontier College for Women Peshawar
F. A. Frontier College for Women Peshawar
Abdul Moeiz Arshad

Mahin Arshad
Professor at Jinnah College for Women, University of Peshawar
Popular Teacher with Strong Command on Subject
Researcher
Linguist
Speaker
Administrator
 Certificates
Certificate of Comparative Linguistic organized by the Department of Computer Science on 14th March, 1995
Certificate of attending a course in Urdu by the Department of Learning Innovation Peshawar
University from April 25th to 30th April 2005 organized by HEC Islamabad
Certificate of attending Staff Development Course from 28th August to 22nd September, 2006 held at IER University of Peshawar, organized by Higher Education Commission Pakistan
Certificate of Research Methodology, Endnotes and Statistical Software in Research organized by PUTA on 3rd November 2011at Teachers' Community Center, University of Peshawar
Certificate of attending Three Days National Convention on Women Empowerment from 15th November, 2016 to 17th November, 2016 organized by Pakistan Academy for Rural Development Peshawar
Certificate of Speaker (Three Sessions) at 2ndDosti Peshawar Literature Festival 2023 organized by the Institute of Education and Research University of Peshawar
        Workshops and Seminars
Delivered lecture on "Hindko Literature" in a workshop for young women writers Forum in College of Home Economics from 30th September to 1st October 2014.
Attended workshop on "How can we promote the literature and culture of our mother language on 16th June 2015 at Gandhara Hindko Board
Presented paper "HindkowanTareemtan da Kirdar" in Hindko Women Conference on 11th October 2015 organized by Gandhara Hindko Board at Archives Library, Peshawar.
Presented paper on "Khyber Pakhtunkhwa Ke Teen NomaindaKhahkaNigar" in 3rd International Hindko Conference from 20th November to 22nd November, 2015
Attended Seminar on "Women in the Changing World of Work: Planet 50-50 by 2030 organized by the Gandhara Hindko Board Pakistan, Peshawar on 8th March, 2017
Received Merit Certificate of Best Performance in 2021-2022 from the Principal Jinnah College
Co-Authored Urdu Text book for 9th and 10th classes, that were taught throughout

KPK

from 2001 to 2013
Published

24 Research Articles

in

HEC

Approved Journals

Gandhara Hindko Board Peshawar

published my book "

Suba Sarhad Mai Khaka Nigari   صوبہ سرحد میں خاکہ نگاری

" . Content of this book are included in other books also.
Second book "

Zahoor Ahmad Awan Behasiat Mohaqiq   ظہور احمد اعوان بحیثیت محقق

" is in pipeline and will soon be published.
Served as Editor of "

Hasday Wasde Log  ہسدے وسدے لوگ

" written by the well-known author

Dr. Syed Amjid Hussain (USA)

Serving as an Evaluator of Ph. D, M. Phil. and M.A. dissertation of

University of Peshawar and Qurtuba University

Since 2017.
Served as Advisor in

Public Service Commission

interviews conducted for recruitment of Lecturers in

Higher Education Department

.
Institutions Affiliated With
University of Peshawar

Qurtuba University

Gandhara Hindko Academy Peshawar
Islam
* Source for this information is Dr. Gulnaz Arshad