Full Name: Fouzia Amna Arbab فوزیہ آمنہ ارباب
Pen Name: Gul Arbab گُل ارباب
Gul Arbab is female Hindkowan literary personality from Peshawar. She is an amazing fiction writer of
Urdu and Hindko. Her written creations are popular not only throughout the country but
are equally admired everywhere Urdu and Hindko are spoken and understood.
She has received many awards for her books.
Gul Arbab has a unique record of being first female Travelogue Writer and Micro-Fictionist of Hindko.
Besides being an acclaimed writer she is a devoted mother and a housewife and is managing her
household responsibilities glowingly.
Gul Arbab is an enormous personality and a beacon for Hindkowan women.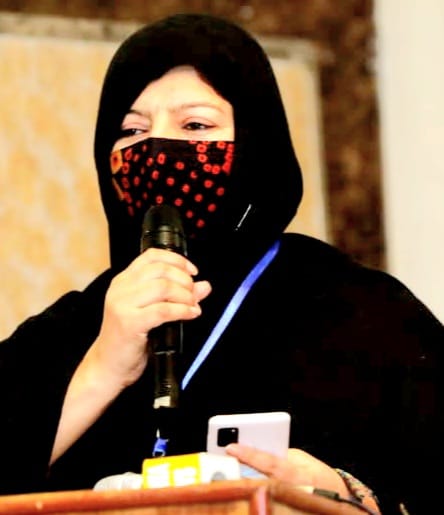 Father:   Arbab Arifullah
Mother:  Riffat Shaheen
Arbab Irfanullah
Yasir Kamran
Farhat Kulsoom
Mubasshir Mansour
Khurram Ilyas
Sidra Tamkeen
Government Primary School Nasirpur
Government High School Tarnab
City College for Girls Peshawar (Bachelors)
Arbab Waleed
Shehzadi Dur e Shahwar
Arbab Umar Harris
Arbab Nofal Usman
Shehzadi Dur e Adan
Digest Writer
Novelist
Travelogue Writer
Micro-Fictionist
Social work
Politics
Awards
Writer Guild Award – 2022
APWA Best Novelist Award – 2021
Alif Kitaab Best Novelist of the Year – 2018
Aalmi Afsana Award – 2018
Achievements
First Female Travelogue Writer in Hindko Language
First Female Micro-Fictionist in Hindko Language
First Hindkowan Female who

received

Award for Best Hindko Travelogue from Khaal Pashto Organization
Hindko Travelogue 
Titli, Tarail Tay Treemat تتلی، تریل تے تریمت
Hindko Fiction
Chunni Naal Badhi Kaha'nrhiaan     چنی نال بدھی کہانڑیاں [ہندکو مائکرو فکشن]

Titaray                                               

ٹیٹارے [ہندکو کہانیاں برائے اطفال] 
Urdu Novels, Novelettes, Short Stories, Micro-Fiction and Digest Series
Zamzama e Adraaq (Urdu Micro-Fiction)                     زمزمہِ ادراک [اردو مائکرو فکشن]
Fasoo'n Kada (Supernatural Novelette)                         فسوں کدہ [پُراسرار ناولٹ] 
Ishq, Aurat Aur Ankaboot (Urdu Novel)                       عشق، عورت اور عنکبوت [اردو ناول] 
Noor Nagar ki Jeena (Novel)                                         نُور نگر کی جینا [ناول]
Dandasa (Short Stories Collection)                                دنداسہ [افسانوی مجموعہ]           
Ishq e Jawedaani Novel in Dosheeza Digest                 عشقِ جاودانی [دوشیزہ ڈائجسٹ میں شائع ناول]
Dil Saahil, Dard Samandar Novel in APWA Digest       دل ساحل، درد سمندر [اپوا ڈائجسٹ میں شائع ناول] 
Aaj Ka Umro (Urdu Stories for Children)                       آج کا عمرو [اردو کہانیاں برائے اطفال]
Various Novels and Novelettes for Khawateen Digest, Kiran Digest, Shuaa Digest،
Naye Ufaq(Digest), Mystery Magazine and Urdu Digest
Institutions Affiliated With
Gandhara Hindko Academy Peshawar
Khaal Pashto Organization
APWA
As a Digest Writer associated with many famous Digests and Mags like
Khawateen Digest
Kiran Digest
Shuaa Digest
Naye Ufaq Digest
Mystery Magazine and
Urdu Digest
Reading

Tourism / Travelling

Fitness

Music
Islam
* Source for this information is Mrs. Gul Arbab