Introduction
Full Name:
Mohammad Zaheen  محمد ذہین
Mohammad Zaheen, an engineer by profession, traveled from Peshawar to USA in 1986.
There, he started working for an airline company "United Airline".
For Thirty Five Consecutive Years, he diligently worked without ever taking a vacation or any sick leave.
His hard work and dedication were evident to the company, so the selection of Mohammad Zaheen has been made
from among 85,000 employees and two offers were made to Mohammad Zaheen,
including a cash gift card of US $10,000 and a paid two weeks' vacation trip around the world
along with his wife as a reward for his record dedication to duty.
However, instead of accepting the money, Zaheen humbly requested the company to inscribe his name on their aircraft
and his request was accepted; which is a brilliant record in itself as it never happened ever in the history of civil aviation.
Mohammad Zaheen resides in America but he loves to speak his mother tongue "Hindko"
and his heart is still filled with love for Peshawar.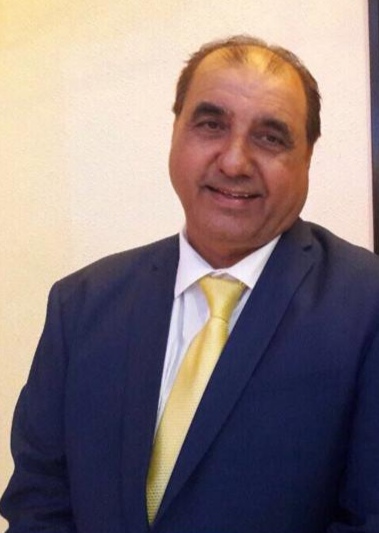 Father:    Allah Bakhsh
Mother:  Shah Sultan
Yasreeb Kaneez (Sister)
Haroon Azar (Brother)
Tariq Amin (Brother)
Abid Saleem (Brother)
Saint Johns School Peshawar
Ambreen Zaheen

Jamaal Zaheen

Sanna Zaheen

Bilal Zaheen
United Airline

USA has honored

First Time Ever in the History of Civil Aviation

; "The one and only

Mohammad Zaheen

an employee with origin from

Peshawar

", by inscribing his name on the air plane as a reward for his dedication and punctuality to duty during the last 35 years of service.
United Airlines

employee of the year.

37 years of perfect attendance

.
Awards from

Volvo

for hard working employee in

Sweden
In charge of over 100 employees at each shift as a lead while working for United Airlines.

Leading employees to work safe and efficient to meet United Airlines goals.
Institutions Affiliated With
United Airline, USA
Volvo, Sweden
Shah Sultan Memorial Hospital in Karachi Pakistan
Islam
* Source for this information is Mr. Mohammad Zaheen