Full Name:    Nazir Bhatti نذیر بھٹی
Almighty Allah has blessed the city of Peshawar with such a big number of prestigious and marvelous individuals that one gets wondered. One of those personalities is Mr. Nazir Bhatti, a true Hindkowan that has got his roots deeply attached with the beautiful city of Peshawar.
Mr. Nazir bhatti is a spot on artist at heart with multidimensional qualities and characteristics. He is a writer that has produced a number of Radio Dramas, Tele-Dramas, Tele-Films, Stage Dramas, Feature Films, Short Stories and Novels. He has got an expertise in writing in Urdu, Hindko and Pashto. Besides that, he is a wonderful actor that has acted in a number of dramas and films. He is a researcher and cultural activist. His famous novel in Hindko titled "Sham e Alam شامِ الم" is not just a novel but is based on deep research on the Qissa Khwani massacre of 1930.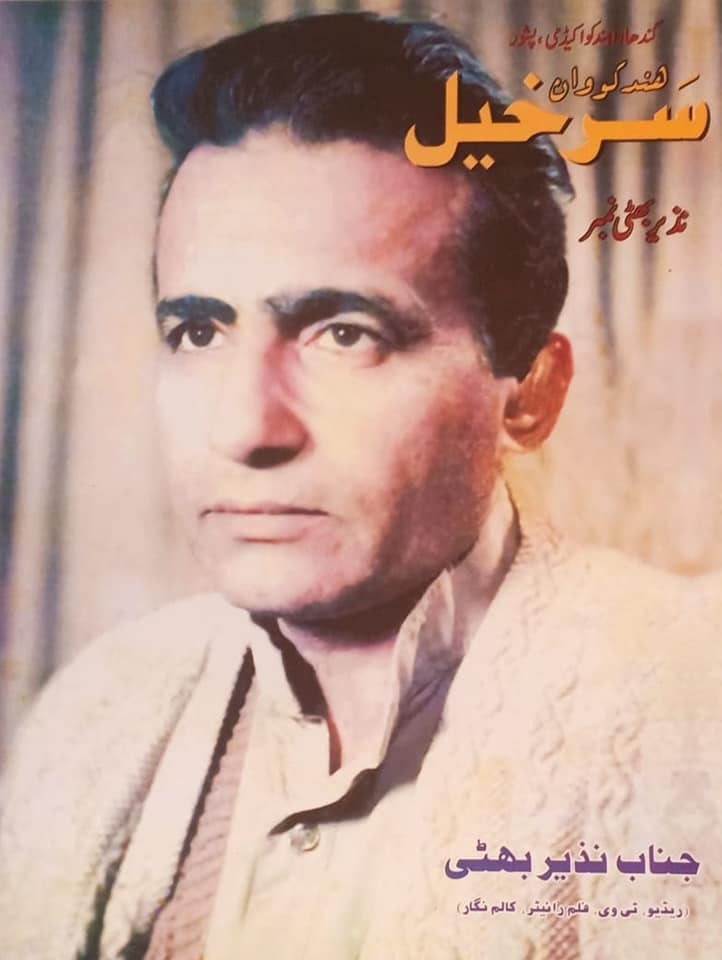 Mother's Name:    Quraish

Father's Name:      Faqir Muhammad
Wazir Muhammad

Mumtaz Begum

Anwar Taj

Shireen Taj

Abd-ul-Jalil
Matric from Govt. High School # 2 Peshawar City
Shahid Farooq

Zahid Iqbal

Abid Iqbal

Munwwara

Kausar

Zulfiqar Ahmad

Afshan

Muhammad Abrar

Muhammad Asif
Retired From Directorate of Industry & Commerce as an Expert Flayer

Play Writer for Radio, TV and Radio in Urdu, Hindko and Pashto

Film Writer for Urdu, Hindko and Pashto
Drama Writer

Film Writer

Columnist
Fakhr-e-Peshawar Award (2019)

Saqafat Ke Zinda Ameen Award (2017)

Raza Hamdani Award From Abasin Arts Council for "Phul Kikraa'n Dey پھل کیکراں دے" in (2016-2017) 

Raza Hamdani Award From Abasin Arts Council on "Likkha Laikhaa'n Da لکھا لیکھاں دا" in (2017-2018)

1st Award Stage Drama  "Hum Aik Hain ہم ایک ہیں"
1st Award Festival Stage Drama "Ajnabi اجنبی"
1st Award Stage Drama "Haye Meri Jan ہاۓ میری جان"

Declared "Waddey Loog وڈے لوگ" From PTV

Declared "Sir Khel سرخیل" From Gandhara Hindko Acedemy
As a Stage Drama Writer he is writing from 1975 and has written more Than 30 Play's in Urdu, Pashto and Hindko.

His affiliation with Radio Pakistan spans from 1975 to 2000 and has put pen to paper for more than 70 Drama's in Urdu and Pashto.

He is associated with T.V. from 1975 and has written more than 700 Dram's in Hindko, Urdu and Pashto.

He has also been the part of Pakistan Film Industry as Writer, Producer and Actor From 1975-2008 and has  




a. Written 32 Films (Hindko, Urdu and Pashto)




b. Performed as an actor in 19 Film (Urdu and Pashto)




c. Produced One Hindko Film Badmash as Producer

As a Tele-Film Writer he has penned more Than 25 Pashto Films
Dosti K Menar دوستی کے مینار (Urdu Novel)
Phul Kikraa'n Dey پھل کیکراں دے (Hindko Novel)
Tarawaa'n تراواں (Research Work)
Wafa Hindko Nal وفا ہندکو نال (Research Work)
Badmash بدمعاش (Film Script)
Dramey Dey Fanni Taqazey ڈرامے دے فنی تقاضے (Techniques of Drama)
Likkha Laikhaa'n Da لکھا لیکھاں دا (Hindko Novel)
Qadam قدم (Hindko Drama's)
Rang Kahniaa'n Dey رنگ کہانڑیاں دے (Sorties)
Ishq Paecha عشق پیچا  (Folk Stories of Peshawar)
Aks-e-Peshawar عکسِ پشاور (Research Work)
Sham-e-Alam شامِ الم (Hindko Novel)
Wafa وفا (Hindko Novel)
Ghulab Dee Bahar Ay غلاب دی بہار اے (Funny Essays)
Deewa ڈیوا (Short Stories)
Institutions Affiliated With
Drama Director Saiwa Art Academy, Peshawar

Saddar Jamiyat-ul-Quraish Sooba Sarhad

Saddar Anjuman-e-Quraish Peshawar
Islam
* Source for this information is Mr. Nazir Bhatti