Full Name: Ziaul Haq Sarhadi ضیاء الحق سرحدی
Mr. Ziaul Haq Sarhadi is a well known citizen of Peshawar. He is an educated businessman Hindkowan of Peshawar. His expertise on Pak-Afghan trade needs no evidence. He is a columnist and writes for multiple National Newspapers of Urdu and Hindko on regular basis. He is a strong cultural activist and always offers his services for the rights of Hindkowans. He has won a lot of awards and medals for his contributions for literature, culture and business.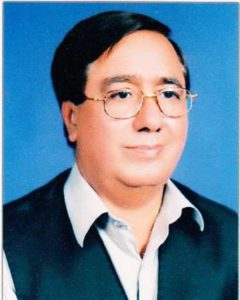 Mother's Name:    Mrs. Chan Munawar
Father's Name:      Sheikh Fazal Qadir
B. A from University of Peshawar 

Islamia High School (No. 3)
Mr. Imranul Haq

Mrs. Sadia Baidar

Noumanul Haq

Mr. Zeeshanul Haq

Mrs. Amber Zia
Achievements:
Trip to Different Places From Government Like India, Afghanistan, Iran & China.
Awards:
Federation of Pakistan Chamber of Commerce & Industry (FPCCI).

Pak Afghan Joint Chamber of Commerce & Industry (PAJCCI).

Sarhad Chamber of Commerce & Industry (SCCI).

Delhi India Cricket Team

Malik Saad Trust Sports Association.
Medals & Shields:
Pak Afghan Joint Chamber of Commerce & Industry (PAJCCI).

Frontier Customs Agents Association (FCAA).

Karachi Customs Agents Association (KCAA).

All Pakistan Customs Agents Association (APCAA).

Model Custom Collectrate (MCC) Peshawar.

All Pakistan Commercial Exports Association (APCEA).

Gems & Gemological Institute of Pakistan (GGIP).

Gandhara Hindko Board (GHB).

Abbasin Column Writers Association (ACWA).

Pakistan Railway Advisory Board.

Inspector General of Police (KPK).

Expertise on Afghan Transit Trade, Economy & Commerce
Auther of two Books

"

Roshni Ke Safeer روشنی کے سفیر

"

(The book is available in Urdu as well as in Hindko language)

.

A collection of his columns with title

"

Yaqeen Mohkam یقیں محکم

"

is also published
Institutions Affiliated With
Gandhara Hindko Board (GHB)

FPCCI

SCCI

PAJCCI

APCEA

APCAA

KCAA

FCAA

ACWA
Book Reading

Watching Talk Shows

Writing Columns & Articles on Different Topics

Travelling
Islam
* Source for this information is Mr. Ziaul Haq Sarhadi