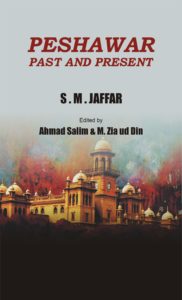 Peshawar: Past and Present
Mr. Sardar Mohammad Jaffar also known as Jaffar Lala was a profolic author. He has more than hundred books published on his credit. Peshawar: Past and Present is one of his famous scholarly contributions. Eminent historian R. C. Majumdar say about this book, "I have read with great interest and profit Peshawar: Past and Present' by S. M. Jaffar. The book gives a short account of the history and antiquities of Peshawar and surrounding regions. The author has brought together much useful information on this very important subject and anyone, who wants to visit this region, will find a very valuable help and guide in this work. The book deals separately with the monuments of the different periods and discussed the various problems connected with them. Readers will thus get an adequate idea of Brahamanical, Buddhist, Muslim, Sikh and the British Monuments with which the region bounds".  
Full books are available to purchase
Feel free to contact us if you're interested in purchasing any of our books.
Whatsapp: +92-334-5554665
Or contact us directly during office hours:
9:00 AM to 4:00 PM.
Phone: 091 - 9216223 | 091 - 9216224
Address: Gandhara Hindko Academy, 2 Chinar Road, University Town, Peshawar.