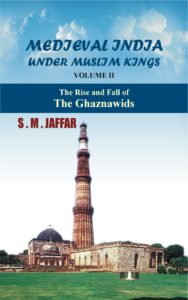 Medieval India Under Muslim Kings Volume II: The Rise and Fall of the Ghaznawids
This beautiful piece of written history was author by famous historian from Peshawar i.e. Mr. S. M. Jaffar. Though the book deals with medieval India but help from modern day historian's work was also got. The book described the conquests in Central India like Sultan Mahmood the Great-I through VI. He elaborated their reigns, their life, their character etc. it's very interesting to read the Ghaznwid's way Govering India, their Revenue System, taxes, Famine Relief and cultural progress. This astonishing work on Indian Medieval History was published for the first time in 1940 and now its second edition is published by Gandhara Hindko Academy in 2019. There are 287 pages in the book and the price of the book is Rs. 1000/- (50 $).
Full books are available to purchase
Feel free to contact us if you're interested in purchasing any of our books.
Whatsapp: +92-334-5554665
Or contact us directly during office hours:
9:00 AM to 4:00 PM.
Phone: 091 - 9216223 | 091 - 9216224
Address: Gandhara Hindko Academy, 2 Chinar Road, University Town, Peshawar.