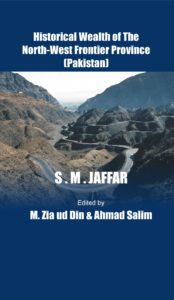 Historical Wealth of North-West Frontier Province [Khyber Pakhtunkhwa]
Mr. Sardar Mohammad Jaffar also known as Jaffar Lala is a world class historian, writer and archeologist. He gave a philosophical touch to history. He was a member of many national and international socities including Royal Historical Society London, the Royal Asiatic Society of Bengal, the Indian History Congress and the Indian Historical Record Commission. This book is a really valuable work on the Historical Wealth of NWFP. It not only introduces this priceless wealth but also emphasizes on how to carefully preserve it. This book was published for the first time in 1952 and now the second edition is published in 2018 by Gandhara Hindko Academy. The book contains 101 pages and the price of the book is Rs. 300/- (30 $).
Full books are available to purchase
Feel free to contact us if you're interested in purchasing any of our books.
Whatsapp: +92-334-5554665
Or contact us directly during office hours:
9:00 AM to 4:00 PM.
Phone: 091 - 9216223 | 091 - 9216224
Address: Gandhara Hindko Academy, 2 Chinar Road, University Town, Peshawar.