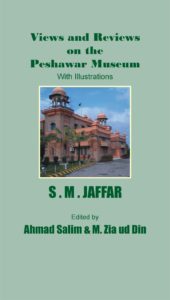 Views and Review on the Peshawar Museum
This book ensues and conveys a fair and faithful review of the Peshawar Museum first through the views and reviews of those who have seen it and recorded their remarks on its different features and then this book goes through the illustrations of photographic reproductions of its exhibits and then the author himself expresses his own feelings which is based on his hand on experience of History and association with the institution. The book is authored by S. M. Jaffar in 1960s and its first edition was published in 1969. Now in 2018 a team composed of two members i.e. Mr. Ahmad Salim and Muhammad Zia-ud-Din at Gandhara Hindko Academy edited the book and published it again. The book consists 87 pages its price is Rs. 300/- (10 $).
Full books are available to purchase
Feel free to contact us if you're interested in purchasing any of our books.
Whatsapp: +92-334-5554665
Or contact us directly during office hours:
9:00 AM to 4:00 PM.
Phone: 091 - 9216223 | 091 - 9216224
Address: Gandhara Hindko Academy, 2 Chinar Road, University Town, Peshawar.