Full Name: Dr. Raheela Bibi  ڈاکٹر راحیلہ بی بی
Dr. Raheela Bibi, originally from Havelian (district Abbotabad) in the Hazara Region of Khyber Pakhtunkhwa, was born in Karachi in a Hindkowan family, where she completed her early education.
She pursued her higher education, obtaining a Master's degree in "Urdu Literature" along with a Master's degree in education.
Raheela Bibi further earned a Ph. D. (Urdu) from Hazara University Mansehra and became associated with teaching in Urdu Department at Shaheed Benazir Bhuto Women University Peshawar.
For Hindkowan community, it is noteworthy that Dr. Raheela, whose mother tongue is Hindko, is the first lady to have obtained a Ph. D. in Urdu from the Hazara University Mansehra.
Currently holding the position of Assistant Professor, she has been successfully fulfilling her responsibilities in the academic field.
Dr. Raheela is well-known in the field of Urdu and Hindko literature research, having numerous successful students who have made notable contributions in the research domain.
Despite being raised in Karachi, Raheela's unparalleled love for the Hindko language and literature is noteworthy.
She is a renowned short story writer in Hindko and Urdu.
Dr. Raheela has worked on a project related to the Corona Pandemic, and two of her books regarding this pandemic i.e. "Shehr-e-Tanhaai  شہر تنہائی" and "Corona ke Lamho'n ki Shaairi  کرونا کے لمحوں کی شاعری" have also been published.
Additionally, 22 of her Research Articles have been featured in esteemed journals recognized by HEC.
In recognition of her academic and teaching services, she has received numerous awards and certificates.
Dr. Raheela Bibi's academic and literary pursuits, along with her administrative capabilities, place her among the distinguished Hindkowan women.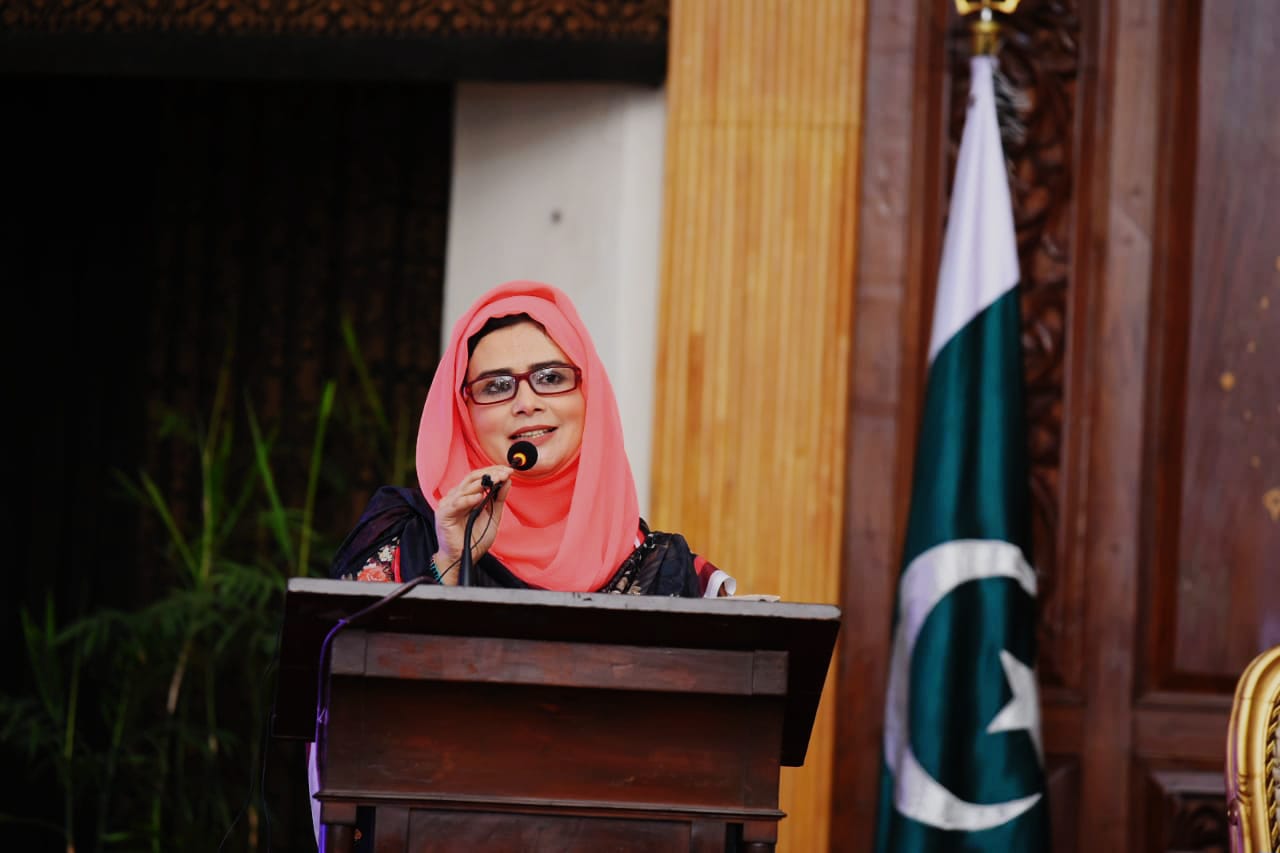 Father Name: Muhammad khurshid
Mother Name: Rasheeda Bibi
Yasir khurshied
Asma Bibi
Tanzila Bibi
Ph. D. (Urdu)

Hazara University Mansehra

M. Phil. (Urdu)

Hazara University Mansehra

M. Ed.

Allama Iqbal Open University

B. Ed.

Al-Khair University AJK

M.A. (Urdu)

University Of Peshawar

B.A. 

Karachi University
Assistant Professor
Shaheed Benazir Bhutto Women University, Peshawar
Afsana Nigar (

Short Story Writer

)
Tabsara Nigar (

Reviewer

)
Researcher
Speaker
Administrator
Awards
Bint-e- Hawa achievement award 2023 (Category in education/literature/culture)
Memberships of Bodies
1) Member Admission comity for the Urdu discipline University of Azad Jammu-o- Kashmir Muzaffarabad.
2) Member course coordinator comity for the Urdu Discipline University of Azad Jammu o Kashmir Muzaffarabad.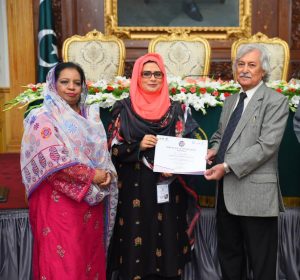 3) Member Editorial Board of Hendko Research journal "Sargi da Tara (published by Ghandara hendko board Peshawar.
4) Member of evaluation Comity of Hazara University Peshawar
5) Member of Board of Studies in Hazara University Mansehra
Supervision
Has Supervised 17 M.A/B. S /M.Phil. Scholars
Certificates
Certificate of appreciation in recognition of Invaluable Contribution in Research during the Year 2019 by University of Azad Jammu and Kashmir
Certificate of participation as a Speaker in three days International Urdu Conference on Past, Present and Future of Urdu Organized by Department of Urdu language Promoters Islamabad held on 12-14 August 2020
Certificate of participation as Oral Speaker of research paper in One day online Seminar on Urdu in Karnatak: Past and Present Organized by World Urdu Association, New Delhi held on 19 September 2020
Certificate of participation in Two days Workshop on Urdu Linguistics for the Faculty of University and its Affiliated Colleges Organized by Shaheed Benazir Bhuto Women University Peshawar
Certificate of appreciation in recognition of valuable contribution as a organizer in Seminar on Mulana Rumi and Iqbal at Shaheed Benazir Bhuto Women University Peshawar held on 12 October 2021
Certificate of appreciation in recognition of valuable contribution as Moderator in Rehmat-ul-Aalamin Program organized at Shaheed Benazir Bhuto Women University
Certificate of appreciation in recognition of contribution as Chief Organizer in One day Seminar on psychological effects of Corona Virus in poetry organized by Shaheed Benazir Bhuto Women University Peshawar held on 26 February 2021
Certificate of participation for Oral Presentation in 6th International Multidisciplinary Research Conference on Global Prosperity through Research and Sustainable Development Organized by Abdul Wali Khan University Mardan held from 2-4 November 2021
Certificate of participation in training on 21st Century Class Rooms: How to Transform Curricula and Teaching Practices Organized by University if Science and Technology Bannu held from 2-6 November 2021
Certificate of participation as Speaker in Mir Taqi Mir 6th National Conference at Lahore Garrison University held from 14-15 September 2021
Certificate of appreciation in recognition of Valuable contribution as Chief Organizer and Resource Person in Seminar on Impact of contemporary issues on Urdu poetry Organized by Shaheed Benazir Bhuto Women University Peshawar held on 23 August 2021
Certificate of participation in Seminar on  Importance of Islamic Family and culture Organized by Karwan-e-Hawwa Library Forum kpk held on 4th February 2021
Certificate of participation in Diversity Management Training on 16-17 November 2022 at Shaheed Benazir Bhuto Women University Peshawar
Certificate of participation and research paper presented in 7th International Multidisciplinary Research Conference on Post COVID-19 Global Prosperity through Research and Sustainable Development From 26-28 July 2022 organized by HEC
Certificate of participation in One day International Seminar on Guidance of Females in the Light of Quran and Sunnah at Shaheed Benazir Bhuto Women University Peshawar held on 26 May 2022
Certificate of appreciation in recognition of participation as Organizer in One day Seminar on Synopsis Writing at Shaheed Benazir Bhuto Women University Peshawar held on 17 May 2022
Certificate of appreciation in recognition of contribution as Facilitator of One day Seminar on Shan-e-Ramadan Organized by Shaheed Benazir Bhuto Women University Peshawar held on 26 April 2022
One day National Urdu Conference on Role of Urdu Language in National Unity Organized by Hazara University Mansehra held on 22 June 2022
Certificate of participation as Committee Member in Two Days International Seerah Conference on Training of Young Generation for Societal Change: Guidance from Seerah Organized by Shaheed Benazir Bhuto Women University Peshawar held from 23-24 May 2022
Certificate of Gratitude for Volunteering time as a Judge at Urdu Declamation and Essay Contests Organized by DHE Zonal sports Hazara Zone held on 9th November 2022
Certificate of Excellence in recognition of dedicated services and contribution towards successful judgement of Annual Sports Activities 2022 of Govt Girls High / Higher Schools of Khyber Pakhtunkwa
Certificate of appreciation in recognition of  contribution as Co-organizer at Launching ceremony of Dosti Peshawar Women's Literature Festival 1st Edition at Govenor House, kpk held on 8 September 2023
Research work published in the form of book titled Abu-ul-Imtiaz Ain Seen Muslim ki Natiya Shairi  ابو الامتیاز عین سین کی نعتیہ شاعری

Research Work published in the form of book called

Naz Muzzafarabadi ki Shahery mai'n Nafsiati Shahoor  ناز مظفر آبادی کی شاعری میں نفسیاتی شعور

Published Two  books titled "

Carona ke Lamho'n ki Shahyri   کرونا کے لمحوں کی شاعری"and "Shehr –e –Tanhai   شہرِ تنہائی

".
Published

22 Research Articles

in

HEC Approved Journals
Institutions Affiliated With
Shaheed Benazir Bhuto Women University Peshawar
* Source for this information is Dr. Raheela Bibi