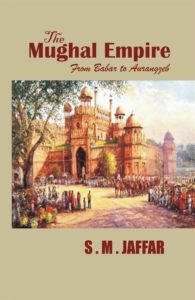 The Mughal Empire: from Babar to Aurangzeb
There have been a lot of books written on the Muslim Period of Indian History in India but most of them only add hatred and bigotry. Most of the authors have written with exaggeration, distortion and limited display of facts. So it was a need of the day to produce the historic facts to expand communal harmony, so Mr. S. M. Jaffar produced this great book that shares the actual historic facts about Mughal Empire. Mr. S. M. Jaffar was an aficionado of Mughal Empire but yet he didn't forget to be a true historian and did honest criticism on the policies and administration of the Mughal emperors. It was first published in 1936 and now after 87 years it is again being published by Gandhara Hindko Academy in 2019. There are 442 pages in the book and it is available at the cost of Rs. 1000/- (50 $).
Full books are available to purchase
Feel free to contact us if you're interested in purchasing any of our books.
Whatsapp: +92-334-5554665
Or contact us directly during office hours:
9:00 AM to 4:00 PM.
Phone: 091 - 9216223 | 091 - 9216224
Address: Gandhara Hindko Academy, 2 Chinar Road, University Town, Peshawar.