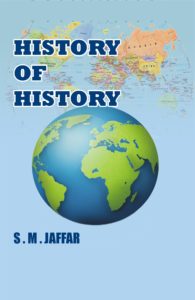 History of History
A very special thing about Mr. S. M. Jaffar is that he used to relate history of philosophy. Among his best work on history is the first volume of the book "History of History" which was published during his lifetime and the remaining nine volumes were in process when he died. Author himself had defined a sketch of the plan as the following topics would have been covered.
Foundation of History
Rise of History Sense in East and the West with special reference to Islamic Ideology and Greek Thoughts
Relation between Religion and History
Problems and Pitfall of History
Solutions and Safeguards
Historiography or Art of History Writing
Fundamentals of Historical Research and many more
When History of History book published an American Professor Dr. John C. Plott wrote to S. M. Jaffar as," Congratulations on your History of History. Many years ago, I said to a friend at the University of Chicago; when World History is rightly written, it will be done by a Muslim or one very close to Islamic sources. We anxiously await Volume II".
This classic work on the history was first published in 1961 and now the renowned scholars Mr. Ahmad Saleem and Muhammad Zia-Ud-Din had worked hard to made it possible to pblish it for the 2nd time in 2019. There are 626 pages in the book and the price of the book is Rs. 2000/- (50 $).
Full books are available to purchase
Feel free to contact us if you're interested in purchasing any of our books.
Whatsapp: +92-334-5554665
Or contact us directly during office hours:
9:00 AM to 4:00 PM.
Phone: 091 - 9216223 | 091 - 9216224
Address: Gandhara Hindko Academy, 2 Chinar Road, University Town, Peshawar.