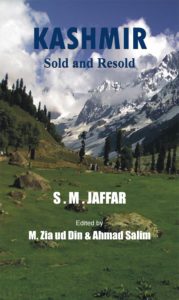 Kashmir Sold and Resold
Mr. S. M. Jaffar is an author of the caliber that his books should be considered as the "Scholarly Heritage of Pakistan". The author himself considers this book as a "Labor of Love".  In this book he paid tribute to the priceless sacrifices' offered by Pak forces. He started his discussion from the emergence of Pakistan and gone through the ideological basis of Indian politics. He described the Hindu Muslim relationship during Muslim rule and also in British Raj.  He also elaborated the Ideological basis of Pakistan. He tried to give the answer to the queries about the Kashmir disputes. This fantastic book was published for the first time in 1992 and now in 2019 the Gandhara Hindko Academy is publishing this book under the supervision of Mr. Muhammad Zia-Ud-Din for the 2nd time. There are 342 pages in the book and the book is available on the cost of Rs. 1000/- (50 $).
Full books are available to purchase
Feel free to contact us if you're interested in purchasing any of our books.
Whatsapp: +92-334-5554665
Or contact us directly during office hours:
9:00 AM to 4:00 PM.
Phone: 091 - 9216223 | 091 - 9216224
Address: Gandhara Hindko Academy, 2 Chinar Road, University Town, Peshawar.