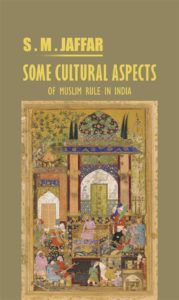 Some Cultural Aspects of Muslim Rule in India
Muslims have ruled India over centuries. They arrived to India from different foreign locations or countries thus transferred with them the cultural impacts of their homeland and also Islam. So Islam had a long-term impact and contribution on Indian culture. Author Mr. S. M. jaffar says in the book that in "The Cultural Heritage of India" a book published in three bulky volumes every aspect of Hindu culture is discussed but there is only a single chapter on "Islamic Culture". So it was considered by author of top priority to produce a book which enlightens the impacts of Islam and contribution of Muslim on the cultural dimensions of India. The book discusses different cultural aspects of Islam on India such as the State, the Administrative System, the Education, Fine Arts, Music, Social Life and Religion etc. This classic work on Indian history was first published in 1939 and in 2019 it is again being published by Gandhara Hindko Academy. There are 260 pages in the book and the price of the book is Rs. 1000/- (50 $).
Full books are available to purchase
Feel free to contact us if you're interested in purchasing any of our books.
Whatsapp: +92-334-5554665
Or contact us directly during office hours:
9:00 AM to 4:00 PM.
Phone: 091 - 9216223 | 091 - 9216224
Address: Gandhara Hindko Academy, 2 Chinar Road, University Town, Peshawar.